I've gotten in the habit of reviewing the previous year's retrospective to see what and how much has changed. Since the onset of the pandemic, I think it is fair to say that our sense of time has changed considerably. We find ourselves asking more and more: Did that really happen this year? Wait, was that just last month? Surely that can't be right. Is anything happening or is everything happening? And with these questions come an accumulative dread.
Just at the beginning of the pandemic I started graduate school. Around the same time, David and I were also considering moving. This all seems like a decade ago.
I'm also in this frame of mind right now because we are just coming off the winter holidays and the new year is almost here and everyone is testing positive for COVID. I was sick on Christmas day, although I tested negative. Our families couldn't celebrate or see each other. The year is 2021 and not 2020. Somehow, we are going into 2022.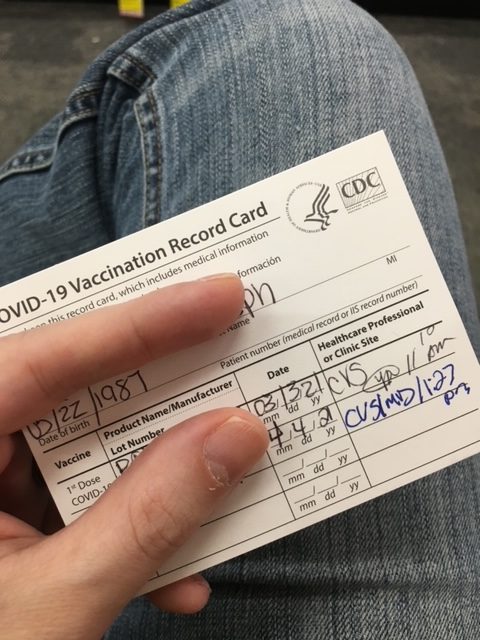 Despite this fear always weighing on us and altering our interactions, I taught for the first time in-person this fall. Although I always wore a mask in the classroom, very few students did and our school couldn't really do anything to enforce it. Florida, the notorious devil-may-care state (an understatement), makes working in education – and teaching things about empathy, for example – all the stranger. I felt awkward at first, standing up there by myself and trying to be engaging, but I'm grateful for my previous experience teaching remotely, and of course, having David to bounce ideas off of.
Fortunately, since going back to school in-person, I've also had the opportunity to meet a lot of the wonderful people in my program and at the Writing Center. I've formed bonds with some excellent writers and teachers who make me think in new ways and whose perspectives I appreciate. It isn't an overstatement that some of the feedback I've received from my cohort has altered the way I think about and approach writing and literature.
In addition, in the spring semester, I took an Imagining Race class that was truly enlightening. It made realize the noticeable gap in my education. Prior to this, it wasn't ever required in any of my classes that I read, for example, the Narrative of the Life of Frederick Douglass, W.E.B. Du Bois, or the work of Toni Morrison (a real travesty). Exploring the American literary canon of Black writers with a historical framework, I learned so much about our country and the pervasive, multigenerational consequences of racism.
Previously I was in the MA program in English at my university, but I was emboldened to apply to the MFA program in Creative Writing. Creative writing is where my passion lies, always has been and always will be. This year, I was accepted into the program, and now I'm taking writing workshops for the first time in more than a decade. I've missed it.
However, despite being in grad school and starting my MFA, I didn't have the greatest year of reading, if I'm honest. Most of my favorites came from the Imagining Race class that I took in the spring and the poetry books I read on my own.
This was a better year for my writing. In particular, I explored the genre of the lyric essay and its possibilities. I have ideas for my MFA thesis that involve this form.
I have a bigger memory jar to open soon. It contains things from both 2020 and 2021, which seems fitting, given how time isn't time anymore. It is compressed and it is sprawling. The disappearing pandemic years. After this, I think I'm going to retire the memory jar project – not because I don't enjoy it anymore (I love reviewing and remembering), but because collecting these jars takes up a lot of space. I will try instead to document my year next year instead in the spirit of how I obsessively chronicled my days in high school. More regularly at least, even if it's more bite-sized.
Here is the everything that defined my year, eclectic and omnivorous as always:
Books:
Playing in the Dark by Toni Morrison
Beloved by Toni Morrison (reread)
The Narrative of the Life of Frederick Douglass by Frederick Douglass
Incidents in the Life of a Slave Girl by Harriet Jacobs
Silencing the Past by Michel-Rolph Trouillot
The Souls of Black Folk by W.E.B. Du Bois
Pudd'nhead Wilson by Mark Twain
Select Shakespeare plays I hadn't read previously, such as Twelfth Night and Measure for Measure
Dr. Faustus by Christopher Marlowe
The Next American Essay edited by John D'Agata
The Lost Origins of the Essay edited by John D'Agata
Witch by Philip Matthews
Odes to Lithium by Shira Erlichman
Soft Science by Franny Choi
Corporal Muse by Allison Joseph
Luster by Raven Leilani
Reconstructions by Bradley Trumpfheller
Nocturnal Omissions by Gavin Geoffrey Dillard and Eric Norris
Find Me by Andre Aciman
Klara and the Sun by Kazuo Ishiguro
Outline by Rachel Cusk
A House Is a Body by Shruti Swamy
Calling a Wolf a Wolf by Kaveh Akbar
All About Love by bell hooks
Movies:
13th
Arrival
Benjamin
Geography Club
Wolfwalkers
Raya and the Last Dragon
Soul
Luca
Onward
Cruella
TV Series:
The Hollow
Bridgerton
The Great North
Disenchantment
Community
Hot in Cleveland
Superstore
Special
Rutherford Falls
The Chair
The Great British Baking Show
Broad City
Aggretsuko
Video Games:
Crash Bandicoot 4: It's About Time
Calico
Dreams
Recettear: An Item Shop's Tale
Cake Bash
Final Fantasy VII Remake
Setsuna: Of Rice and Ruin
Mortal Kombat 11 Ultimate
Paper Mario: The Origami King
Beglitched
A Mortician's Tale
Doki Doki Literature Club
Our Life: Beginnings and Always
Hades
Pokemon Unite
New Pokemon Snap
NEO: The World Ends with You
Boyfriend Dungeon
Deltarune – Chapters 1 and 2
Black Book
Pokemon Brilliant Diamond
Monster Rancher 1 and 2 DX
Kitaria Fables
Wytchwood
Music:
Champion by Bishop Briggs
Heaven and Hell by Ava Max
Effet Miroir by ZAZ
Mini World by Indila
If You Leave by Daughter
Arrows by Fleurie
Lost on You by LP