I've been extremely ill this past week or so. I could barely even talk. All I've been doing is watching DVDs in bed and trying my hardest to sleep the sickness away.
Fortunately, I've been doing a lot better lately. I've finished reading the newest issue of the Indiana Review, which I highly recommend. After entering their annual poetry contest this year, I'm going to be getting a few of their next issues. They publish some really fantastic writing.
In addition to working on some of my own writing and trying to find good homes for it, I've also been busy with my newest project: a blog that will focus on writers and the spaces they write in. It will be called (surprise!) Writing Spaces. I plan on asking for submissions soon. I'd really like to turn it into a cozy hub where writers can find each other and share some kind of community. This writing thing can get so lonely sometimes, and it's nice to find new kindred spirits every once in a while. When I have it all set up, I'll be sure to make a post about it here. And of course, you'll be sure to contribute, right?
What else? Oh, I recently won a painting.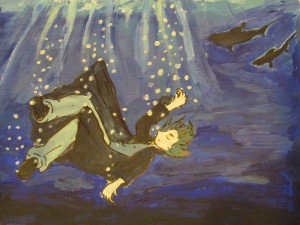 It was from a great video blogger named Stephanie. I've been following her adventures on Youtube for a while now. She graduated from my alma mater a year or two before I did and decided to leave Florida to teach in Japan (something a few fellow English majors I know have considered doing too). The painting itself doesn't have a title, but I came up with the theme for it originally: loneliness. I guess I've been thinking about that a lot lately.